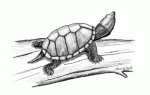 It's not everyday that you see a tortoise wandering around on it's own but that's just what happened to us recently.   The little chap had decided to go on an adventure and was spotted in our yard, he was lucky not to be squished by a car so we promptly popped him into a box and he had a feast on some salad we donated from out lunch boxes!
Now, what on earth were we going to do with it?  We informed people locally about it and we took it home overnight to the delight of our new puppy Aruba who immediately thought he had gained a rather humorous playmate.
This video is her attempting to get the tortoise to move just a little faster…  The tortoise was happily reunited with her owner!